In 1954 Bill Tomko and his wife, Martha, started their plumbing business in their home in Hazelwood, a small suburb of Pittsburgh, PA. Bill was a Master Plumber working out of Local Union 27 and Martha was a housewife with financial and administrative skills. Quality and dependability were Bill and Martha's forte, and for the next 10 years they toiled tirelessly to fulfill each and every contract available to them. The 70s and 80s were growth years for W.G. Tomko & Son. As the business grew, so did Bill Jr. and his wife, Sharon's, family. The 90s found all three of their children, Bill III, Sharee, and George coming into the family business. In 2001, the business moved to a state-of-the-art facility in Finleyville and was renamed W.G. Tomko, Inc. In 2008 the family added another 10,000 sq. ft. to the beautiful facility, and in 2010, the operation expanded once again with 20,000 sq. ft. of sheet metal fabrication capabilities.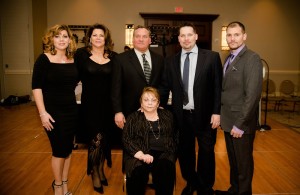 In 2013 the Oil and Gas Division was added as they found a niche in fabricating Pig launchers, receivers and spoil pieces for local Midstream producers and contractors in the Marcellus Shale. With that addition to our business portfolio we are also adding a 40,000 sq. ft. addition to our fabrication shop to support our Oil & Gas fabrication production demands.
Milestone after milestone, W.G. Tomko, Inc. has grown into an industry leader, achieving this with the care and love of a 60-year-old, third-generation family business. The virtues Bill and Martha instilled in their son, Bill Jr., and daughter-in-law, Sharon, have been passed on again to their three children. Today W.G. Tomko, Inc. is involved in the newest technologies, fabricating their own products and embracing the ability to design/build total project packages far beyond what may have seemed impossible goals to Bill and Martha.
From the company's inception, we have consistently defined our core values as honesty, integrity and respect for the company's employees and customers. Our mission statement is the same today as it was our first day of operation: Provide a safe work environment where our employees are treated with honesty, integrity and respect. We convey these values to our customers through partnership in construction projects that are the highest quality, greatest value and evolve into long term working relationships and utilize these concepts to become their preferred Mechanical Contractor. After all these years, we still continue to take pride in each and every project we perform.
Please consider us for any of your future construction needs.